How to Play the Didgeridoo
Rob & Tanya have been teaching the art of didgeridoo since 1990. From the humble beginnings in the countryside of Australia, through the first rippling waves of the didgeridoo movement as it came across the pacific spreading throughout the United States and beyond, evolving into the present day phenomenon that it is: A global community of people enchanted with sound and dedicated to the exploration and preservation of this Aboriginal instrument. Over the years they've taught legions of people how to play. This Didgeridoo tutorial has been instrumental in guiding literally thousands of didgeri enthusiasts on their quest to learning the art of playing this amazing instrument. Many of whom have moved on to become didgeridoo makers and teachers themselves.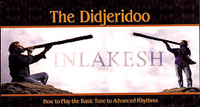 DVD: $20
All the nuts of bolts of how to play didgeridoo.
What you'll find inside:
What to look for in a good didgeridoo
How to form a beeswax mouthpiece
How to create a rich clear tone
How to vary the tone
How to make bird and animal sounds
How to circular breath (in 3 easy steps)
Basic Rhythms
Advanced Rhythms
There are close up shots of each technique demonstrated both inside the instrument and out so you can clearly see how each technique and each sound is created.

../art1didgeridoo.html